Online Banking – 5 Tips You Need to Know
At People First, we're really proud of our modern and safe online banking platform. We always put our customers first and focus on making banking easy and innovative. Our online banking system is designed to give you control over your money, no matter where you are.
You can do lots of things with our online banking, like checking your account balance, moving money, paying bills, and handling your investments. It's all easy to use. Here are five tips to make your online banking experience even better.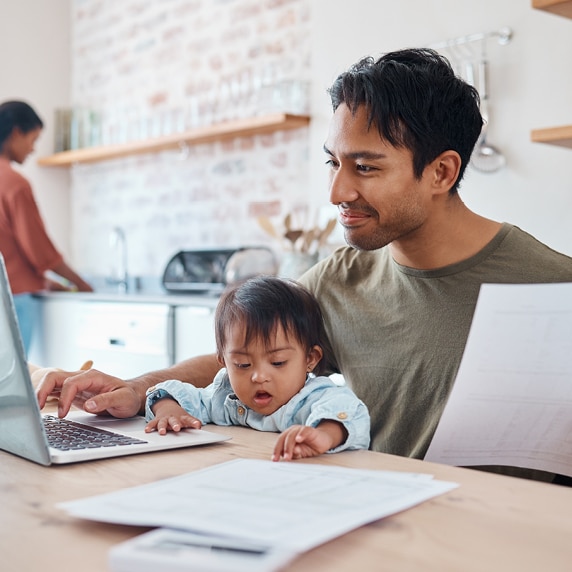 Tip 1: How to Rename Your Accounts in Online Banking
1. Login to your People First account.
2. In the My Accounts section, click on the Settings Icon.
3. On the Account Preference screen, type the name you would like in the Nickname block for any share, loan or certificate. The change takes effect as soon as you type it. The name you enter will be displayed in both Online and Mobile banking.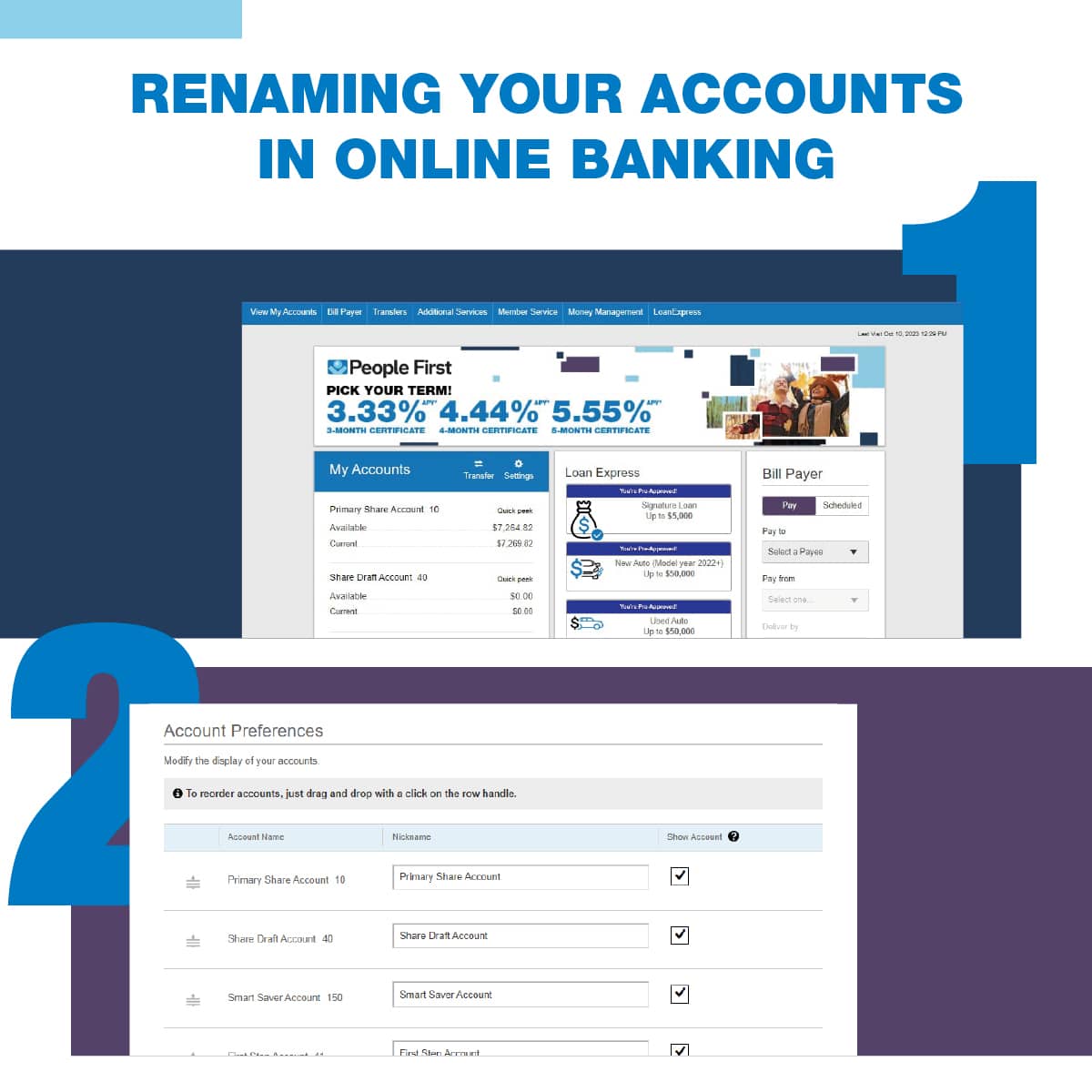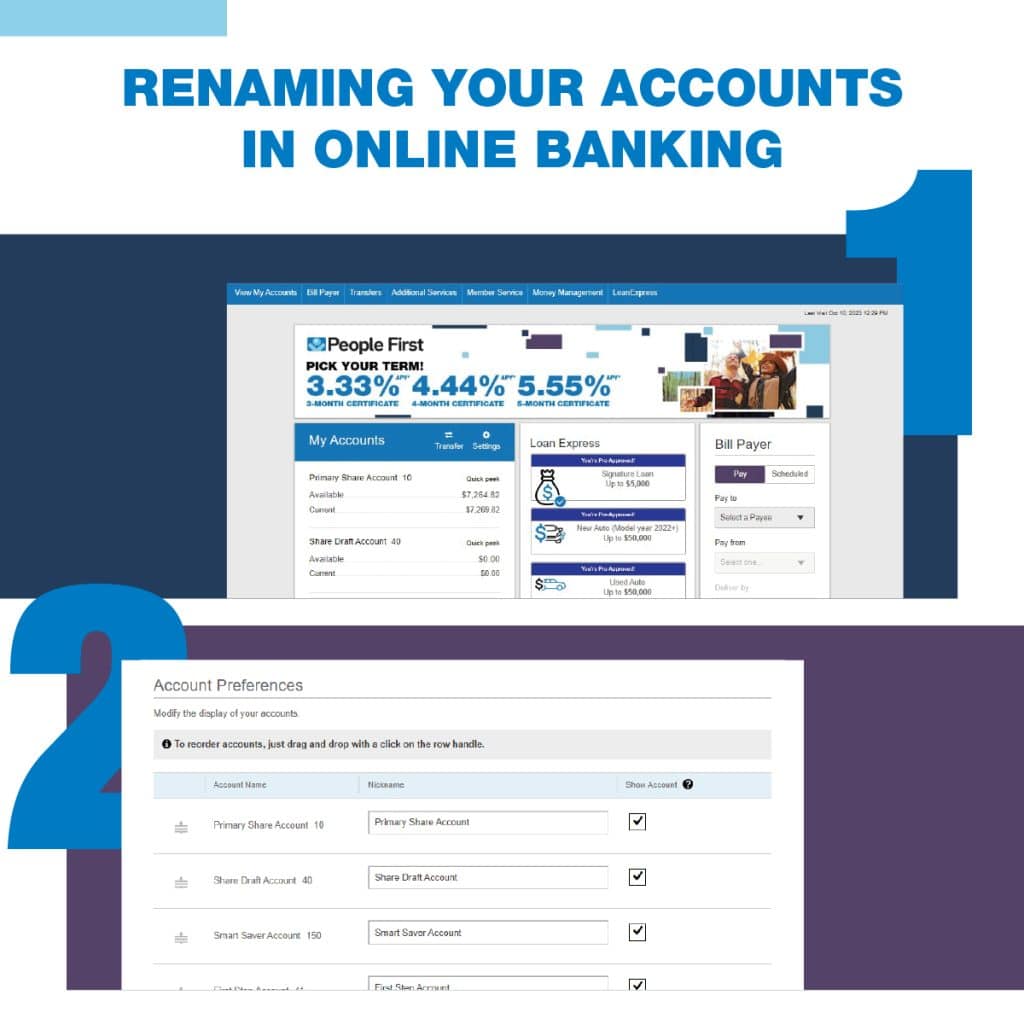 Tip 2: How to Sign Up for E-Statements (Online Statements)
Login to your People First account.
In the navigation menu, hover on Additional Services, then select Documents.
Select Documents Settings, double check your email address, (update if incorrect) then under Document Delivery Preference select all by electronic.
Tip 3: Set Up Email or Text Alerts
Always know what's going on with your money.
Login to your People First account.
In the navigation menu hover on Additional Services then select Alerts.
View your current alerts, add an alert such as Low balance, Large Deposit, and more.
Tip 4: Money Management
Take control of your finances.
We're making it easier than ever to visualize and interact with your money. With Money Management, you'll gain powerful insights on when, where, and how you spend. It's time to achieve your financial goals. With Money Management you can:
View balances and transaction history for all your accounts all in one place
Create budgets
View spending trends
Set goals
Calculate your net worth
Money Management gives you the tools to start simplifying your finances—and so much more.
Money Management is available on either the mobile app or online banking. To get to Money Management in the mobile app, click 'More' from the bottom of your screen. In online banking, select 'Money Management' from the menu.
Tip 5: Loan Express
Loan Express is our pre-approved loan section within online and mobile banking. You will be able to see what loans you would be pre-approved for such as Auto Loans, Credit Card Offers and more.
Login to your People First online account.
In Online Banking, Loan Express populates in the middle of the homepage.
In Mobile App, select More, then click the Loan Express icon at the top of the page.
See what products you are pre-approved for today.