People First Federal Credit Union Announces 3rd Annual Youth Scholarship Award Winners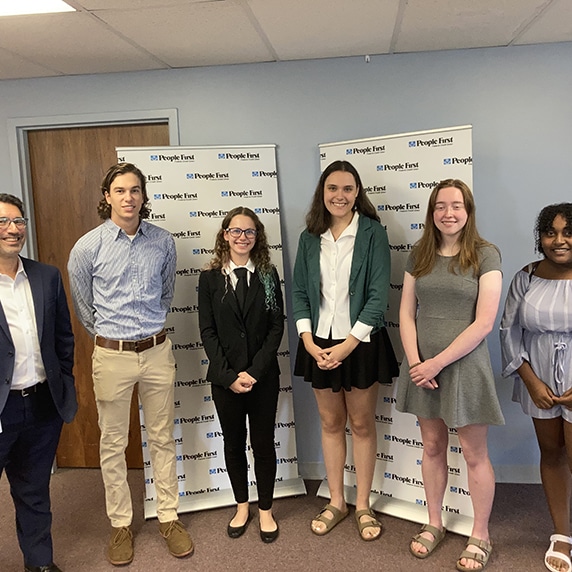 Allentown, PA – People First Federal Credit Union is pleased to announce the winners of the 2021 Youth First Scholarship Awards Program. Five local high school graduating seniors were awarded with a $1,000 scholarship. The scholarships can be used for tuition, room and board or the purchase of schoolbooks and materials. Graduating seniors who are members of People First and will be attending a college, university, or trade school in 2021 were eligible to apply.
Nineteen graduating seniors submitted essays describing how People First has helped them achieve meaningful goals, and what goals and aspirations they have with their future education.
"Our Youth First program helps educate children from a young age on positive financial behaviors," said Howard Meller, President/CEO of People First. "These scholarship winners demonstrated what they learned through their membership at People First including how to save money for things they want like a car or a college education. We wish all of our winner's success in their pursuit of higher education."
The five winners are:
Meaghan Crites of Parkland High School will attend Purdue University majoring in Engineering
Heather Fabritze of Emmaus High School will attend Washington College majoring in English and Journalism
Emily Rivera of Catasauqua High School will attend Lehigh Carbon Community College majoring in Computer Science
Timothy Stahley of Allentown Central Catholic will attend West Chester University majoring in Business and Marketing
Jahnia Treadwell of Louis E. Dieruff High School will attend Bucknell University majoring in Psychology
"I am a first generation, low income, high achieving, minority student seeking a better life through secondary education. I was fortunate enough to receive grants and scholarships however, my financial aid package included loans and my goal was to not be in debt after college, said Jahnia Treadwell. "So, I began depositing every cent I found in my savings and with the help of People First I was able to save enough money for college so that it would be possible for me to study Psychology at Bucknell University."
"I've always thrived in math and science, and those skills combined with my passion for space and space technology is why I will be studying engineering in college, with a specific focus on astronautical engineering," said Meaghan Crites. "There is unmatched potential for growth and exploration within the field, and especially, I believe, in the engines we use to power such incredibly strong machines. My end goal in my education is to be able to work on the frontlines of making further advancements to take humanity into space."