People First FCU Provides Financing to First Graduates of Real Estate Lab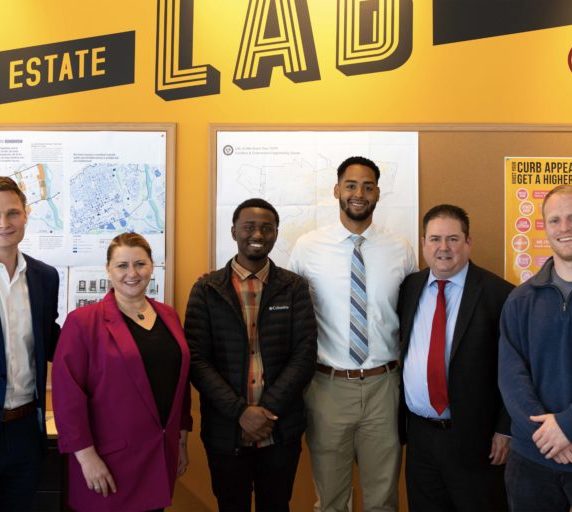 ALLENTOWN, PA, May 13, 2021 – People First Federal Credit Union, a member-owned, not-for-profit financial institution, provided financing for graduates of The Real Estate Lab, a free program that teaches downtown Allentown residents how to invest in real estate and manage properties in their community. This is the first financial institution to provide financing to the students who now own and manage their first investment properties.
"Access to friendly financing is so critical for first-time investors," said Real Estate Lab Program Director Jon Strauss. "We appreciate People First stepping up and being the first financial institution to finance our graduates. By doing so, the participants are developing the bankability necessary for success in the industry. We want to make sure more people have access to do the same."
"People First is delighted to support The Real Estate Lab in helping local residents invest in their communities," said People First President and CEO Howard Meller. "This program aligns with two of our important values: empowering others to achieve their financial goals and serving the community."
The Real Estate Lab was launched in January 2020 by City Center Investment Corp., the real estate development company revitalizing downtown Allentown, and Lafayette College's Dyer Center for Innovation and Entrepreneurship. Located at 6th and Linden streets, The Real Estate Lab gives local residents walkable access to the resources and capital they need to become real estate entrepreneurs. Those interested in participating in The Real Estate Lab's 2021 program can submit their information through the Apply page on www.RealEstateLabAllentown.com.
In 2020, the first nine participants to complete the program came from different walks of life but share an entrepreneurial spirit and a desire to help their downtown Allentown community. The graduates include a financial advisor, an immigrant from Sudan, and a social-service professional, among others. Three of the nine graduates now own and manage their own investment property. Their names are Sean Roth, Ibrahim Abbakar and Jonathan Mieses. Other graduates are actively working to acquire their first investment properties.
The Real Estate Lab offers several programs at no cost, including a 10-week First-time Investor Program, a Real Estate Entrepreneurship Access Program and an Investor Club. Participants are taught how to acquire, rehabilitate and manage real estate and learn about the many additional business opportunities in the industry. The Real Estate Lab's comprehensive programs tap into collaborations with Allentown's most successful investors for the benefit of participants.
The Real Estate Lab also helps participants develop the bankability necessary for success in the industry. City Center established an Allentown Neighborhood Innovation Fund with an initial investment of $1 million. Community leaders pool capital in the fund to be invested in program participants through grants, low- or no-interest loans and equity investments.
"The Fund is self-sustaining," said Strauss. "To date, $600,000-plus of the initial $1 million Innovation Fund has been utilized to provide temporary low- or no-interest rate gap financing, bridging first-time investors into the permanent financing being provided by People First. The Fund will act as a revolving credit facility, allowing for continued opportunity for future program participants."
City Center donated the space for The Real Estate Lab, which includes a classroom with computers and whiteboards and a demolition/construction demonstration wall for hands-on learning about basic wiring, drywalling, plumbing and more. City Center appointed Strauss to serve as director of the project full-time. The Dyer Center collaborates with City Center to develop and implement the programs and measure their value.
Dyer Center Director Yusuf Dahl, whose inspirational prison-to-Princeton story was recently featured on Good Morning America and in a TEDx Talk he gave, is an entrepreneur who has been on both sides of the struggle to strengthen Milwaukee's most vulnerable neighborhoods. As a teenager, he operated a network of drug houses before being sentenced to prison for 10 ½ years and serving five. During the financial crisis he became an unlikely real estate investor in response to the onslaught of foreclosures in his neighborhood, eventually growing a portfolio of more than 200 affordable housing units. In 2017, Dahl graduated from Princeton with a master's degree in public affairs, having studied urban development and housing. In addition to his role with Lafayette College, Dahl consults with organizations across the country working to activate opportunities in inner-city housing.
For more information on The Real Estate Lab, visit www.RealEstateLabAllentown.com. If you have questions, please email info@realestatelaballentown.com.
Pictured from left to right at the loan closing are Jon Strauss, Real Estate Lab Program Director; Margaret McConnell, Director of Strategic Partnerships at People First; student loan recipients Ibrahim Abbakar and Jonathan Mieses; Ryan Kinnon, Business Lending Manager at People First; and student loan recipient, Sean Roth.
About People First Federal Credit Union:
People First Federal Credit Union (People First) is a federally chartered and insured credit union that has been serving the Lehigh and Northampton Counties of Pennsylvania by offering low-cost financial services for more than 70 years. With more than $800 million in assets and greater than 75,000 members, People First serves more members than any other credit union in the Lehigh Valley region. A member-owned, caring provider of financial services, People First is committed to helping the people of the Lehigh Valley and beyond to improve their lives and secure a better future.
Media Contacts:
Jeff Vaughan, Vaughan Communications Group, jv@voncom.com, 610.533.4264
Marketing Department, People First, marketing@peoplefirst.com, 610.797.7440