Lehigh Valley Reads Book Drive
People First is proud to have sponsored Lehigh Valley Reads Million Minute Challenge in 2022. We also held a book drive and collected 8 boxes of books that will be distributed to kids across the Lehigh Valley.
On Thursday, May 26, 2022, Corey and the Lehigh Valley Reads team stopped by to thank employees for their commitment to helping kids succeed in school and in life.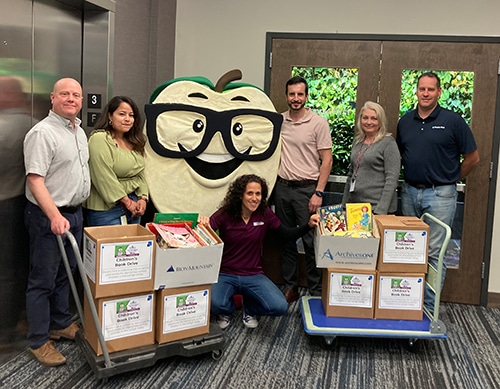 Why is this Challenge important?
Nearly 7,000 babies are born in the Lehigh Valley every year, and almost half live in low-income families. Our most vulnerable children have the most limited exposure to high-quality childcare and will likely begin kindergarten 12-14 months behind their peers. Seven out of ten children in the Lehigh Valley are not ready for kindergarten, socially, emotionally or cognitively. Children who enter kindergarten not ready need additional supports to improve their language and literacy development to get them on track for reading well by the end of third grade. Additionally, Children from low-income homes who don't read on grade level by the end of 3rd grade are 13 times more likely to drop out of high school.

Lehigh Valley Reads is mobilizing our community to support our goal of building a community of readers to make the Lehigh Valley a place of opportunity for all.
Thank you to everyone who donated a book or participated in the Million Minute Challenge this year.
People. First. Always.