Help Donate to those in need this Holiday Season
People First will be collecting food and toiletries for Allentown, Bethlehem and Easton School Districts' Food Pantries and Ripple Community Inc. supporting the homeless this winter.
We are collecting canned, non-perishable items and toiletries in all seven branches. Please consider bringing an item in on your next branch visit. There will also be brown paper shopping bags that you can pick up in the branch and return with donated items.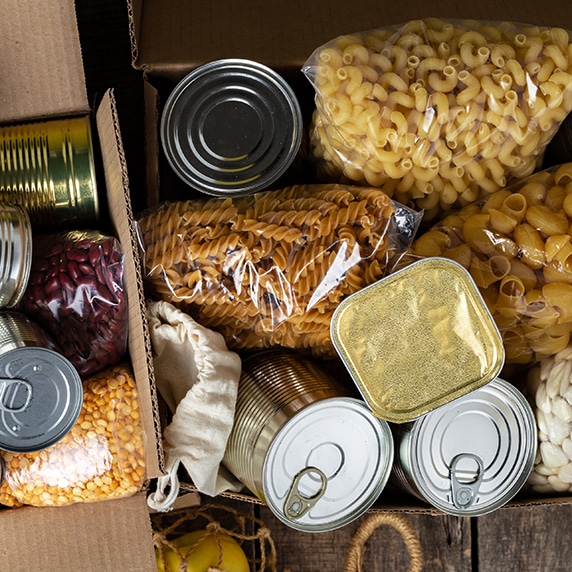 Food items will be delivered to Sheridan Elementary School (ASD), Fountain Hill Elementary School (BASD) and Paxinosa Elementary School (EASD) in December, just in time for the holiday season. All three schools are designated Community Schools by United Way of the Greater Lehigh Valley. Community Schools improve student outcomes by transforming high-poverty public schools into resource hubs that offer a range of supports and opportunities to children, families and the surrounding neighborhood. Each school has an emergency food pantry that helps families in need stretch their food supply throughout the month. Learn more about Community Schools.
Ripple Community Inc. houses the only day center in Allentown that is open to the public. They primarily serve adults who are experiencing homelessness, who are living with mental illness, who have experienced significant trauma, or have other conditions or experiences that can leave them isolated and alone. Ripple also operates RCI Village, the first permanent, community-supported affordable housing program in Allentown. They have 19 apartments for individuals and/or families who are in need of safe, stable, affordable housing, and are working on achieving long-term housing and life stability. The toiletry items are given to those in need who visit the center and to the families who are beginning to build a home after years of being homeless. Learn more about Ripple Community Inc.
Toiletry Items most needed:
Body and Foot Powder
Baby Wipes
Tampons/Pads
Deodorant
Men and Women Socks
Umbrellas/Ponchos
Laundry Pods
Clorox or Lysol Wipes
Lysol Disinfectant Spray
Antibacterial Hand Soap
Hot Hands Warmers for hands, feet and body
Travel size-Shampoo/Conditioner/Body wash
Bar Soap/Lotion
Toothbrushes/Toothpaste
Chapstick
Baby Wipes
Flashlights
AA, AAA, D batteries
Food items most needed:

Individual packs of crackers, animal crackers, Goldfish, trail mix, fruit snacks, etc.
Fruit cups and applesauce pouches
Individual packs of oatmeal
Cereal (individual or standard size boxes)
PopTarts, Nutrigrain bars, granola bars
Pasta & pasta sauce
Rice & beans
Instant potatoes and stuffing
Macaroni and cheese
Canned meat (tuna, chicken Vienna sausage)
Canned goods (chili, soup, veggies, Manwich)
Meal starters (Hamburger Helper, Rice-a-Roni, Ramen noodles, etc.)
Sandwich items (peanut butter, jelly, Nutella, etc.)
As a credit union, we are committed to "people helping people" and strengthening the communities we serve. We hope you'll join us this holiday season in giving back to those most in need.