People First announces support of Allentown initiatives
People First Federal Credit Union is proud to announce further commitment to downtown Allentown's revitalization and ongoing success with three sponsorships of significance.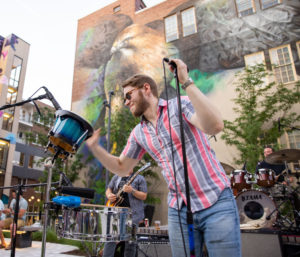 People First is the Community Music Series Sponsor for Rock the Walk every Thursday evening from 4-9 p.m. on the ArtsWalk and in the adjoining Pocket Park. Hosted by City Center, Rock the Walk features music from Lehigh Valley bands, performances from local community groups, and pop-up vendors, as well as food and drinks each week through October 14, 2021.
People First is also a Silver sponsor for the Blues Brews & Barbecue Festival held on July 31, 2021 on the 600, 700 and 800 blocks of Hamilton St. This outdoor music festival draws upwards of 20,000 BBQ and Blues music aficionados from all over the region and is FREE and open to the public!
Additionally, the credit union is participating in the renovation of the playground and park adjacent to the Central Elementary School on Chew Street. The playground is used by the elementary school as well as the surrounding community. It is in disrepair and does not have sufficient capacity for the school. Along with City Center Allentown and Northstar Construction, People First will be donating a bench to the renovated park.