BUSINESS CREDIT CARD
Doing business gets a little easier when you use one of our low interest ,convenient credit cards.
Apply Now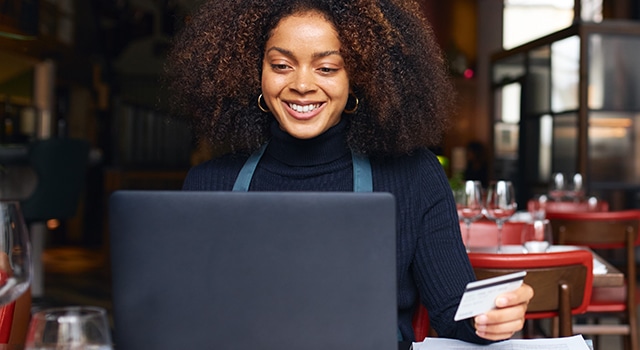 Business credit cards with a range of great features.
Whatever kind of card you choose, they all come with features to make payments easy, safe and secure.
CARD MANAGEMENT
Putting total control of your debit and credit cards at your fingertips.


ZERO LIABILITY POLICY
You won't be held responsible if someone else uses your card.


TAP TO PAY
Just tap your card on a payment terminal and go.


MOBILE WALLET
Paying for stuff is so much easier when all you need to do is tap your smartphone.
The business credit card that makes doing business easier.
All the control you need to help manage your finances.
Our Business Visa® Platinum Card gives you the convenience, tools and savings to make managing your finances easier. A suite of online reporting tools gives you easy access to your records and payments. You can even earn points that can be redeemed for everything from office supplies to travel to name brand merchandise. It's all at our ScoreCards Rewards website. Other enhancements include:
Free Travel Accident Insurance
Free Auto Rental Collision Damage Waiver
24/7 Card Inquiry Services
Emergency Card Replacement/Cash Disbursement
Lost Luggage Insurance
Business Hotel Savings
Roadside Dispatch
Travel and Emergency Assistance
Start using a credit card that does more for you.
People First is here to guide you through every step of the process. Stop by one of our convenient branches, give us a call, or schedule an appointment today.
Report a Lost or Stolen Card
You can report a lost or stolen card at 1.800.325.3678. We also offer card controls with SecurLOCK Equip, allowing you to turn off your credit card in real time.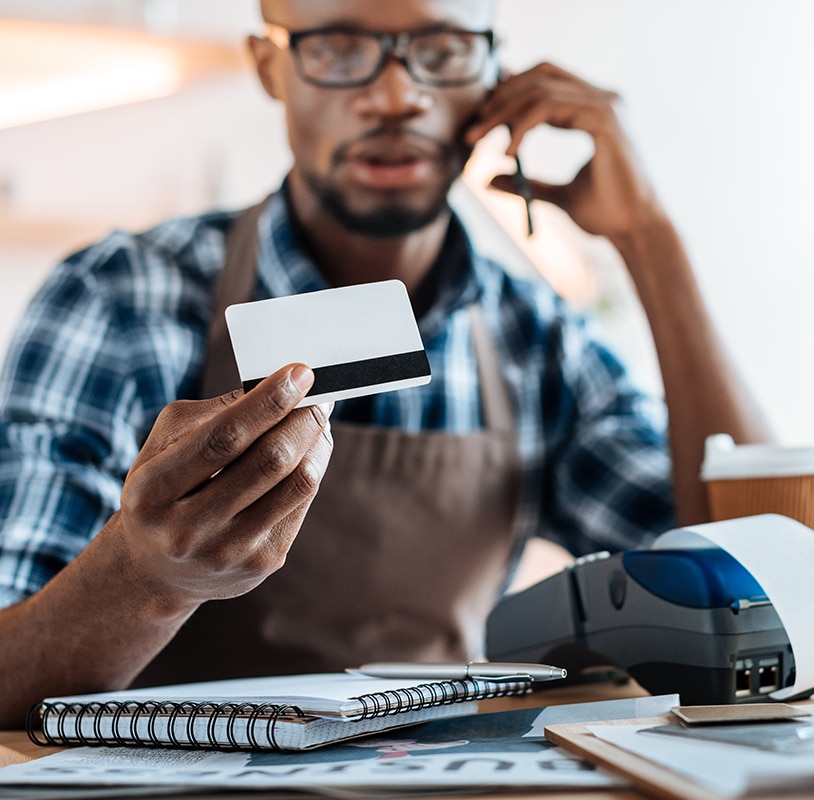 Business Credit Card Rate
Business Credit Card
| Type | APR* | Monthly Payment |
| --- | --- | --- |
| Visa Platinum | 16.15%-18%1 | the greater of 2% of the outstanding balance of $10 |
Rates are effective: August 28, 2023
The current prime rate is 8.5%. *APR denotes Annual Percentage Rate. 1Variable Rate. All advances are subject to a Variable Interest Rate which is based on the highest Prime Rate as published in the Money Rates section of The Wall Street Journal in effect on the last business day of each calendar month ("Index") plus Our Margin. The Index plus the Margin equals the Interest Rate. Changes in the Index will cause changes in the Interest Rate on the first day of the billing cycle that immediately follows any such change in the Index. Increases or decreases in the Interest Rate will cause like increases or decreases in the Finance Charge and will affect the number of your regularly scheduled payments. Your Interest Rate will never be greater than 18.00% and will apply to your remaining principal balance.

The Margin that will apply to your VISA® Platinum Account is 7.65%-12.65%, based on your creditworthiness at the time you establish your Account.
More ways we can help manage your business's money.
A full range of products, services and tools to help you with financial life.
Disclosures
Subject to credit approval.