February 1, 2023
Mural Arts
A regional arts competition will be sponsored by People First with Allentown Mural Arts to celebrate "community" at its branch on the Allentown ArtsWalk in downtown Allentown at 26 N. 6th Street. The winning artwork will be reproduced large-scale and displayed for one year in the People First windows.

The Competition is an opportunity to recognize and encourage the artistic talent in our region.

The Competition is open to residents of Lehigh, Northampton and Carbon Counties in PA, and Warren County NJ. The submitted works will also be featured on the People First website peoplefirstcu.com, and on social media.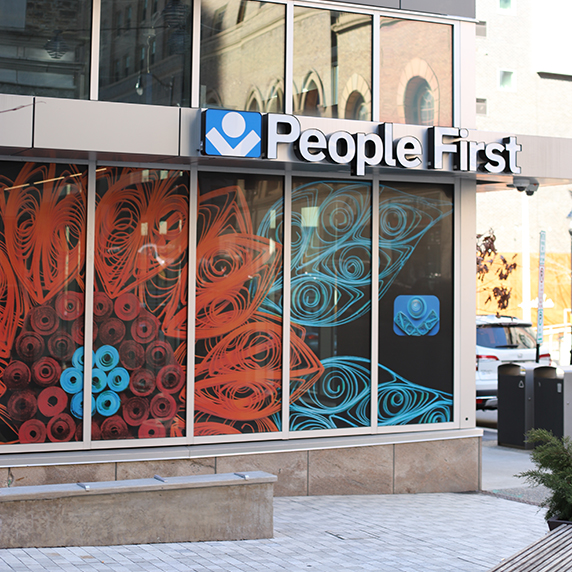 Submission Deadline
All submissions are due by Wednesday, March 1, 2023

Rules
Artwork entered should be to scale of its final size 212" wide x 89" tall. If selected People First will have it enlarged, reproduced, and installed. An example of medium could be:
Paintings – including oil, acrylics, and watercolor
Drawings – including pastels, colored pencil, pencil, charcoal, ink, and markers (It is recommended that charcoal and pastel drawings be fixed.)
Collages – must be two dimensional
Prints – including lithographs, silkscreen, and block prints
Mixed Media – use of more than two mediums such as pencil, ink, watercolor, etc.
Computer-generated art
Photography
All entries must be original in concept, design, and execution and may not violate any U.S. copyright laws.
THE 2023 THEME IS COMMUNITY
Community is the feeling of acceptance, belonging, and/or sense of attachment to the neighborhood. Try to think outside of the box when deciding what community means—and looks like to you—and show us in your artwork. The words "People First," and/or the symbol must be incorporated somewhere in the artwork.
ANNUAL CASH AWARD
The winner of the annual People First on the ArtsWalk Jury Prize will receive a significant cash prize ($2,500) to a single work selected. Winner will be determined by a jury from People First and Allentown Mural Arts and notified by April 1, 2023. Artwork will be produced and installed during May 2023 and unveiled to the public at a TBD date.