LGBT Credit Discrimination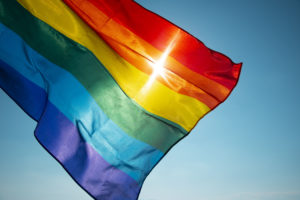 Morning Call – Whether you are looking to buy a home or a car, or grow your business, equitable access to credit could be the difference between a possibility and impossibility.
The harmful effects of credit discrimination have long plagued the LGBT community in Pennsylvania and across the nation. And as the president and CEO of People First Federal Credit Union, I know how important access to credit is for our members. People First is proud of the diversity of our members, and we know that protections from credit discrimination are good for our entire community in Lehigh and Northampton counties.
That's why I'm grateful that state Sen. Lisa Boscola of Northampton County is working on new legislation to protect LGBT Pennsylvanians from credit discrimination — ensuring banks and credit unions will treat all credit applicants equally, regardless of their sexual orientation or gender identity.
Today in a vast majority of Pennsylvania's municipalities, LGBT people can still legally be denied housing from landlords, be turned away by real estate professionals and be denied loans from banks, credit unions or mortgage companies. In 2021, it is time to end these terrible practices once and for all.
Researchers at Iowa State University's Ivy College of Business found that same-sex applicants for mortgages were more than 73% more likely to be denied a loan than heterosexual couples. And what's more, same-sex couples who were approved for loans ended up paying more in interest and in fees than heterosexual couples did.
And according to the Filene Report: Understanding the LGBT Opportunity in Financial Services, same-sex households are less likely than heterosexual households to own property and hold mortgages. This is at least in part due to the storied history of credit discrimination in America.
For example, a majority of the LGBT population confirmed strong or moderate concerns about being denied a home mortgage solely because of their sexual orientation, not because of financial reasons. Credit unions have a tremendous opportunity to serve the unmet banking needs of LGBT community members, and nondiscrimination protections support this important goal.
Toomey serves on the Senate Banking Committee and has an opportunity to join Boscola in pushing for an end to credit discrimination. The Equality Act can achieve this goal on the federal level, and Boscola's proposal can do so on the state level. Either way, Pennsylvanians of all backgrounds will benefit.
To be clear, this is not a partisan issue. State Sen. Pat Browne, a Republican, has long championed nondiscrimination protections in Pennsylvania. Former Pennsylvania Congressman Charlie Dent did as well. Former Republican governors of Pennsylvania, Tom Corbett and Tom Ridge, endorsed nondiscrimination protections. And Sen. Toomey has shown a willingness to support commonsense protections for the LGBT community. He demonstrated this by supporting the Employment Non-Discrimination Act in 2011.
Local business organizations also agree. The Greater Lehigh Valley Chamber of Commerce has publicly backed nondiscrimination protections for more than five years, because this is simply good for businesses across our region. There is a consensus that equal opportunity to access credit is an American value. We need that value to be turned into the law for all 50 states.
Credit unions everywhere stand ready to support the lending needs of our diverse community. Federal and state laws should catch up to the rest of our society and make it easier for LGBT people to know that, wherever they turn for a loan, they will be treated fairly.
Fairness is part of the American dream.